Shady Oak Professional Stained Glass Classes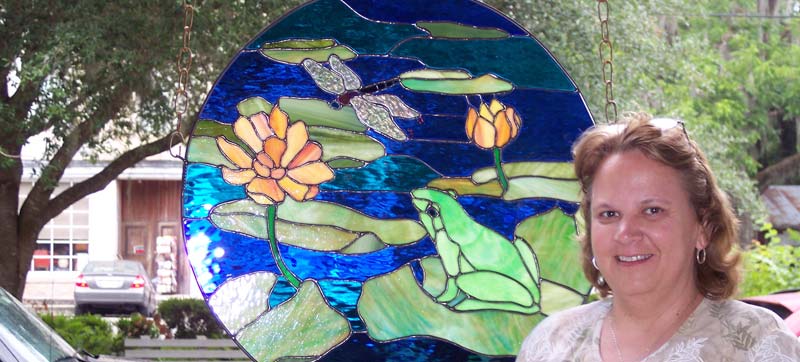 Shady Oak Studio
Stained-Glass Workshop in the Historic Business District
For beginner, intermediate and advanced students
Workshop Information
If you have ever wanted to learn stained-glass crafting or to improve your stained-glass skills, the Shady Oak Studio offers a 5-day seminar to introduce and guide you through a world of color and beauty limited only by your imagination.
Stained-glass crafting is easy to learn. You don't have to be an artist; you only need to be "good with your hands" and have "an eye for detail". A good sense of humor and a little patience will get you through this program just fine. Our goal, as a team, is for you to produce a finely crafted project and to have as much fun as possible during your stay with us.
The trend in teaching glass crafting for the past 20 years has been to profit by selling students many expensive tools and equipment. Very little emphasis has been placed on skill or technique. As a result, many otherwise enthusiastic beginners have "burned out" in frustration.
Skill and technique, once learned, and a few simple tools, are all that are needed to produce project after project, simply and easily. Expensive grinders and cutting systems are absolutely unnecessary. We will teach you all the skills necessary to make your completed project look as good as anything we have produced in our studio. You will complete this program with confidence to continue at home.
Intermediate and advanced level students may work with the instructor to custom-tailor their training program, designing a project that places an emphasis on improving skills and/or exploring new techniques. Advanced students may choose to develop three-dimensional design and fabrication skills by building a stained-glass lamp.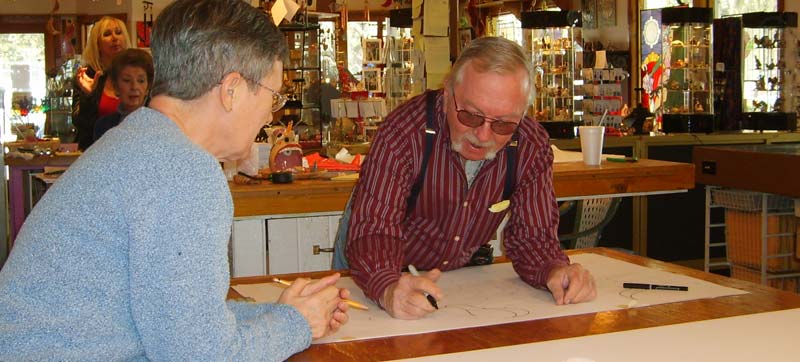 Workshop Schedule
Our five-day workshop begins on Monday and continues through Thursday from 10a.m. to 5:30pm. Fridays are usually half-day sessions beginning at 10am and finishing by mid-afternoon.
Class size is strictly limited to no more than four students to provide as much one-on-one training as possible. Each student will produce a well-crafted window/panel, approximately four square feet in size. Each project should have 70-80 cut pieces of glass. Each panel will be an original custom design, reflecting the subject choice and taste of the student.
All students will receive intensive training in glass design, pattern making, glass cutting, soldering and finishing techniques. Our goal is to help each student achieve a sustainable proficiency in each of the various technical skills required for stained-glass crafting.
Your tuition includes most of the materials, glass and supplies you will use in your design. Occasionally, a student may choose some special components such as jewels, agates or special glass that may cost a little extra.
You do not need to buy any tools. We will provide the use of all tools necessary to complete your project. Once you have completed your project you will be far more knowledgeable about what few tools you really need to continue.
Accommodations
For those of you who live too far away to drive to class daily, Mr. James can arrange for comfortable accommodations right here in Micanopy.
Glass workshops are offered one or two weeks each month. Just give us a call to discuss details for enrollment and accommodations. Enjoy your next vacation by learning and making a special project for your home.
Students are encouraged to take an "entertainment break" by taking in some of our local sights. Time will be available to enjoy the area and points of interest; including bicycling, canoeing or a possible air tour of the area.
Students who leave nearby and intend to go home each evening are always welcome.
Workshops are conducted on a year-round basis. Please try to call for arrangements at least a month ahead. Once we have agreed upon a class date and accommodations, we will require a $100 class deposit. Upon receipt of your deposit, you will be contacted by phone for confirmation and arrangements. The full tuition amount for the workshop is $725.
Shady Oak Stained-Glass Studio
P.0. Box 327/Micanopy, FL 32667
Phone: (352) 466-3476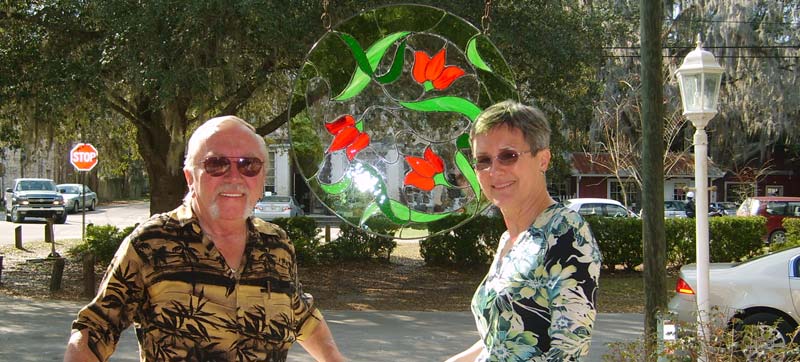 The artist, the staff, the fun
Mr. Frank James began a career in glass crafting in 1968, studying techniques used by old time masters in North Carolina. The skills he has acquired these past 40+ years are the same ones you will learn during your stay with us. Mr. James will work with you to develop your design into a working pattern. We do not use ready-made patterns, but instead work with you through the learning process of developing a working design from an idea. Upon arrival you will be given several design books to review, so that you may begin to get an idea of what kind of project you would like to do.
Stained Glass Crafting provides many hours of fun and excitement. It is always very satisfying to complete a project that will provide lasting enjoyment for years. Come join us and learn the basic skills necessary from a good beginning in glass crafting.
Photo Gallery: Student Projects
Mailing Address
Shady Oak Stained-Glass Studio
P.0. Box 327
Micanopy, FL 32667

Physical Address
201 NE Cholokka Blvd
Micanopy, FL 32667
Phone
(352) 466-3476
Email